Don Most – Always Happy Days
Interview by Elise Quevedo for MilliOnAir April edit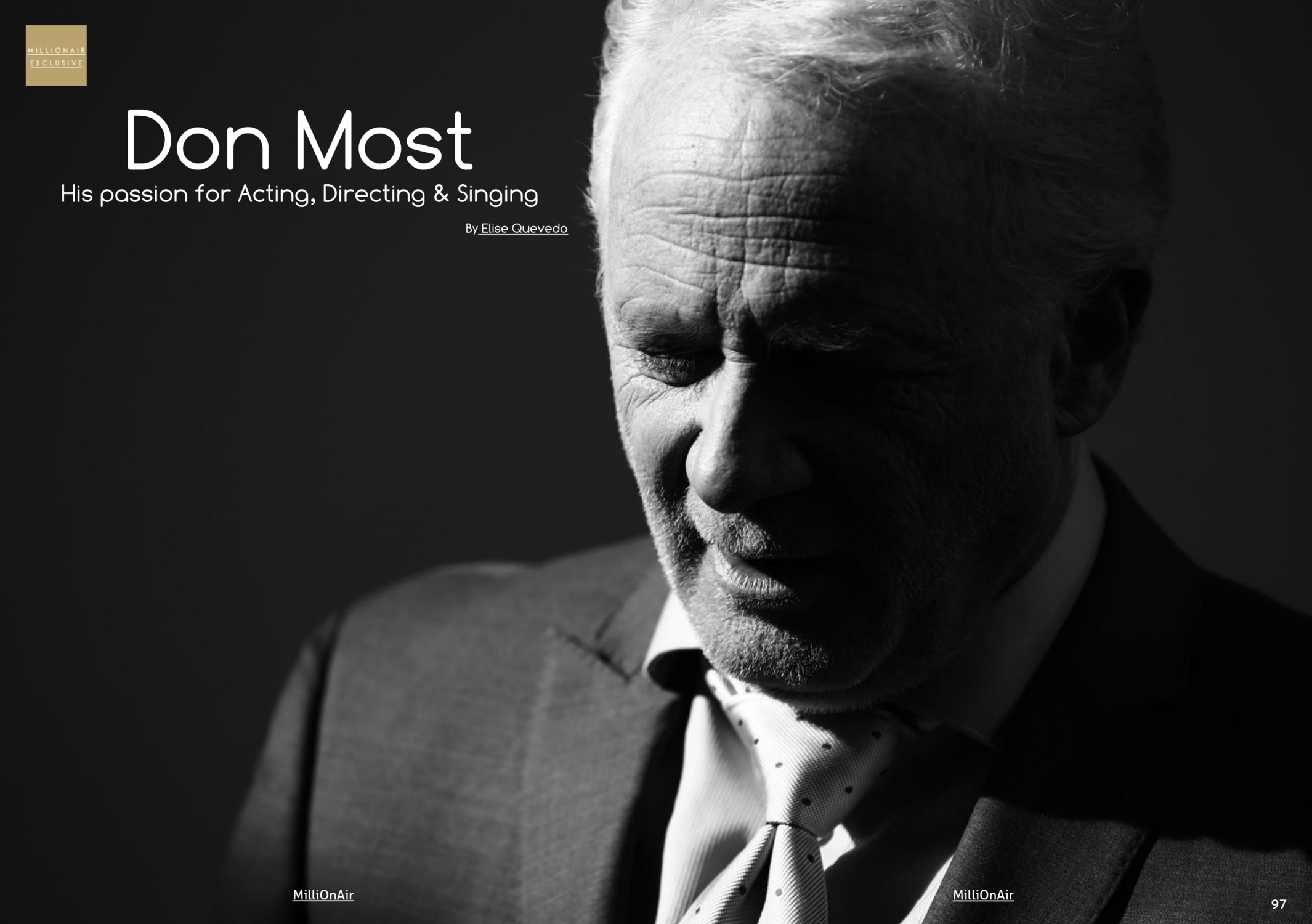 Who can remember Happy Days character Ralph Malph played by actor Don Most?
I could not resist the opportunity of an interview with him after an introduction by one of our common friends, music artist Jonathan Cilia Faro. I grew up watching Don in a variety of TV shows that have now become quite iconic.
I think Don has proved to be a very versatile actor who was able to play a lot more than just comedy, and as you'll get to read through the interview, he has some great advice for those wanting to enter the industry or who want to expand the type of characters they play. So let's get to know Don!
Don, let's take our readers through your journey in the acting/singing world. We will be talking about some of the highlights of your career, but let's start where it all began!
How did your acting career start? Was this something you always wanted to do?
It started when I was pretty young. I was about 9 years old when I saw a movie called the "The Jolson Story", which was about a great legendary singer – Al Jolson, who was one of the most famous entertainers in the early 1900 hundreds and into the 20's and 30's, he actually made the first talking picture called "The Jazz Singer" in 1927.
This movie was about Al Jolson and his career. And at 9 years old, that made a strong impact on me. The actor who played him – Larry Parks, was great, and the music was great, so my first interest was music and singing, and that's what I was pursuing when I was 13,14,15. I then shifted. I enrolled in a more serious acting class. My first class was acting, singing and dancing, but when I was 16, I enrolled in a more serious acting class, and that led me to meeting a woman – Selma Rubin, who then became my manager, (in NYC where I grew up). She started sending me out on auditions, meeting agents, going out on auditions in New York, and initially, I started doing some work on commercials.
Those were my first jobs as an actor, small TV roles. Then I went to California when I was 20. It was only supposed to be for the summer, to meet people and extend my network, but I got some auditions and landed some parts on TV shows that summer.
After that I decided to stay in California taking 6 months off from New York. My agent thought it would be a good idea because I was getting some momentum, so I did, and I stayed in Cali. I landed a couple of more parts, and then a few months after that – I got the part for the pilot of Happy Days. That was the progression of events.
As we know, Happy Days, which you just mentioned is one of the shows a lot of people think of when hearing your name plus it was a very well loved show across many countries. What was it like to be part of such a successful show at such a young age? What do you remember the most from that time?
It was an amazing shift in my world. First getting the pilot, then you wait to see if its going to go on the air, which we found out very quickly. Then we started shooting. So it was happening at an amazing pace and it's almost like a blur. It was surreal. Like, "is this really happening?"
You never know if the show is going to be a success. At first, you just don't know, but I felt so good about the cast and the behind the scenes people like our director Jerry Paris, and Executive Producer – Garry Marshall. And especially the chemistry we had as a cast.
I was feeling really really good about the show and I was having a wonderful time creatively, and we all got along very well. Eventually, by the third year we became the number 1 show in the country. Then it went really crazy. It was like being thrown into the twilight zone because your life is turned upside down in many ways.
It was great, but you had to learn to adapt. So many things change. I was only 20 years old when I started on the show, so it was a lot to adapt to. They don't teach you anything about that in acting class. How to deal with sudden fame and the success of a show, so it was a learning experience. Luckily I had great support with the people in the cast, wonderful people like Ron Howard who grew up in the business. He was a rock steady influence on all of us.
It was a whirlwind, but it was exciting, and what I remember most is the camaraderie and creative collaboration. We were also very serious about the work. We wanted it to be the best it could be. And we worked hard at it. I remember a lot of the sessions that we had, with the writers, the producers and our director, when we were in rehearsals, and trying to solve problems, and making the script better. I loved that.
There were some really great moments from that… some of the behind the scenes – that's what I remember the most.
You guys were the pioneers of many of the shows that came after. You are a veteran in this industry, what advice do you have for those souls out there who want to become actors?
It can be an overwhelming process for many of them or those who have the wrong expectations.
People have asked me this in the past, and the thing that keeps coming back to me is that you have to really love it – so much that you can't imagine doing anything else. That this is all you'll ever do. You need to have passion, because it's so hard – the business itself with the competition. Sometimes talent is not enough. It can be unfair. You have to learn about it, whether by going to class and continuing to work on the craft. If you are not 100% committed then find something else you enjoy.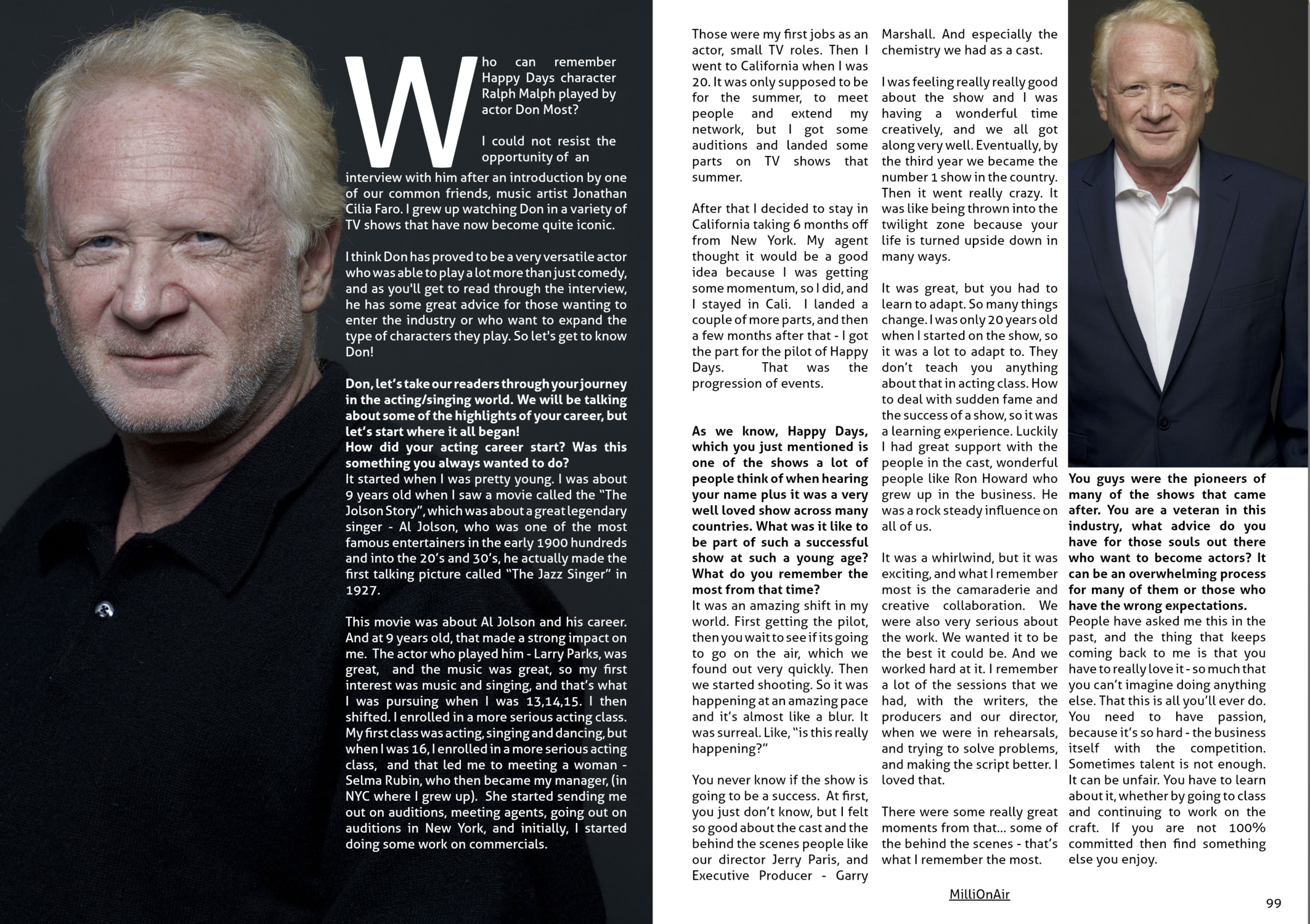 So what about the 80's?
I left Happy Days in the 80's. My last season was in 1980. And it was a whole new phase that I was entering. For a while I did a lot of Theater. I went on tour with Dick Van Dyke in the play – "Damn Yankees", then I started doing shows like Chips, where I played a heavy metal rock guy. I did some Love Boat episodes… and a few more TV movies. That was pretty much the 80's…lots of Theater and TV shows.
I think this is why you are such a great role model, because you were able to do a variety of roles and not just have the comedy side. You've been a very versatile actor. It shows that even if you are known for something for many years, you can still pull away and do other things and genres.
So how about the 90's?… what does that make you think of?
I continued to do some television and interesting roles. But I started to pursue directing. I directed some plays. I was looking to see if I could make a move into independent films. Theatre was a great way for me to see how I would do, see how it felt and if I liked it. Then I started looking into some film scripts that I could direct.
On the acting side, there were a couple of interesting roles I did. One called Dead Man's Island, which had a great cast – William Shatner and Roddy McDowall.. I did a show called Sliders and Dark Skies… I played Timothy Leary in an episode of that show . I also did a film called Acting on Impulse, with C. Thomas Howell, Linda Fiorentino and Nancy Allen.
And then I got to direct my first film, a dramatic film called the Last Best Sunday, so that was the 90's
I have to ask you of course about your role in Star Trek since The Star Trek Culture is such a big phenomenon… tell us your experience…
That happened in 2001… I went on an audition. It called for me to play a doctor. I was a fan of the original Star Trek in the 60's.. so to be cast on this was amazing. It was an extra special treat to be on set, and see how it was all made. As a result of being on that show, I have been invited to some of their conventions and I get to be part of that family.
So what is that like? I have friends that go to them and I know they are very different.
Yeah, they are very different, it's a whole other world. I have been to two so far, with Anson Williams, because he directed a bunch of them. So the two of us will go together and witness this amazing scene that goes on there. People come from all over and they dress up in these amazing costumes that they create themselves. Then cast members from some of the other Star Trek spinoffs show up, and you have a big auditorium where you do Q&A.
But the people are amazing, they love being there and it's great to be a part of it.
Before we talk about more recent projects, I also want to recognize you for your voice over work. What did you enjoy the most about voice overs and how does the preparation differ from a script for film or TV?
I enjoyed it. I started doing these cartoons in the 70's. It became more interesting for me in the 80's, when I did Dungeons and Dragons. I did 3 seasons, where I played Eric the Cavalier.
It was different than acting on camera because you have to put everything into your voice to express all that is going on. So they will show you visual images in order to show you what was going on, and that helps you to bring that reality onto it. I imagine this is what it would be like doing a radio play. You didn't have to worry about what you look like, and usually I wouldn't prepare too much like I would for a normal script, because I would need to see the visuals. I like that it was very spontaneous.
Over the last decade we have seen you on TV shows such as Bones, Glee, The Odd Couple, The Bold & The Beautiful and films such as The Great Buck Howard, Ed TV. Let's make a stop at Glee! Since it also was one of those shows that just took over the screens too. Can you share your Glee experience with us?
I had a great time. I got cast as the father of one of the regular actors – I was the father of the character Emma. Who was the guidance counselor on the show. She was a redhead. It was important to the storyline. Jayma Mays was the actress that played Emma. I did 3 episodes. It reminded me a bit of Happy Days – the cast and crew had a great working relationship.. It was a highly professional feeling on set, really good people who knew what they were doing and they really impressed me. I really enjoyed doing that.
From around those times, from all those TV shows, which ones are the ones that come to your mind?
That's tough!… You mentioned one earlier, and you mentioned Ron Howard, who of course went onto become one of the biggest directors of our time. He cast me in his movie EdTv. So getting to work with him and the other big stars… that was a big treat. Hopefully we'll get to do that again sometime. Of course Happy Days. I got to do a scene with John Malkovich in the Great Buck Howard….that was a real treat to work with him. I always admired his work as an actor….
Directing Last Best Sunday and Moola, I really enjoyed that. Those things truly stay with me.
As the well rounded artist that you are, not only have you been in front of the camera, you have directed a few films like The Last Best Sunday and Moola like you just mentioned. Was that an organic move? How different is it to be behind the camera?
it's a little bit like baseball. If you are one of the players, that is like being an actor… as supposed to being the manager, which is like the director. Its like the manager has to look at everything.
As the director you are involved in everything. As an actor, you learn your part, you come the days you are hired to work and that's it. As a director, from the very beginning you are involved in everything – the script, making sure it's in the right shape, working with the creative team during pre production for months, finding locations, making sure the sets are correct, wardrobe… then you start shooting, then you have post production which can go on and on, and of course there is also the music and sound.
It's like your child. It's your life for that period of time. It encompasses you in a bigger way. Directing is a much greater canvas because how much more you are involved.
So what would you prefer? Acting or directing?
If I truly had to choose, if both were equal, I would have to say acting.
That's great! Because of that chemistry, it's like you simply picked up where you left of all those years ago.
Now let's talk about one of your latest projects with my good friend Italian Opera Singer Jonathan Cilia Faro, whom without, this interview with you would not be happening.
A few months ago you both recorded a video in Italy called " La Dolce Vita" , I have seen the video and looks amazing!, how much fun did you have doing it?
It was so much fun. It was also tough because we did it all in one day. We were all over the place in Rome. It was jam packed. But it was great fun and Jonathan and I get along so well, both professionally and personally. We recorded the music in LA at a studio. I love his voice. He is a very talented singer, and the combination of our voices worked. His music producer blended it in a way that you wouldn't expect.
Shooting the video all over Rome, was fantastic…getting all around in a vespa.
Now, I know Jonathan loves you because you are a great teacher and role model, are you happy to be working with Jonathan? What do you think of his skills as a singer and also a producer?
I love working with Jonathan. We hit it off straight away when we first met. We originally had a conversation on Skype. I liked creatively some of the ideas he had about what we could do together, and hearing how he envisioned it. I really liked the way he was talking and how he visualized it.
Then when I heard his voice, I was like "WOW, he is fantastic!", and then I got to work with him at the studio, and then we did something together at a club in New York. We just have really good chemistry together. As a producer, I think he has great ideas. He is very smart.
We are now planning to do some concerts together in Italy, in May. I'm very excited about that.
Your music seems to be a great part of your current entertainment career, is that taking a more prominent part over acting/directing? Or is it just as equally important as acting?
I would say it's equally as important. When I started doing it 4-5 years ago, it was taking a bit more of my time, because I had to invest time to create momentum. So it took away some focus from acting and directing. But now that the music is more established and growing, I am now able to focus back onto more acting and directing, and I have some film projects that I'm looking to get set up.
How do you think Social Media and Technology have impacted the Entertainment Industry?
In one hand, I don't think I know it well enough to take advantage of it, but I manage.
There is a negative side where some producers and casting directors are influenced by how big of a following someone has, so maybe someone is not as good of an actor and yet they get cast purely because of their influence.
On the positive side, you get to tell your story to more people all around the globe. You are able to connect with fans and share your news. I see people reacting to things I post, that otherwise they would never know. It's nice to see the impact on people.
For those wanting a long career like you, what does it take to have longevity in the industry?
That's a good question. I would say that having a big range is important. I mean there are actors who can play themselves and don't have to stretch that far. That certainly works for some people…but I think those are in the minority.
For me, it was important to have range, to be able to play different types of characters, so that you can surprise people. Being able to keep it fresh. You have to study to be able to have range. The other thing to do is to be able to be on the other side of the camera, to be able to produce or direct or write. You can have a bit more control of what you do. As an actor you are at the mercy of others. As a writer you can help shape a script. It's important to open your mind to the other sides.
Is there anyone you haven't work with yet (director, actor/actress, singer) that you would like to work with?
There was one actor – he is not working too much anymore. He was my favourite actor. When I first started watching movies in a much deeper way, when I was 16,17 years old, and actors were influencing me significantly, the actor that was my idol was Jack Nicholson, I loved Jack.
From the first movie I saw him in, which was called Five Easy Pieces, and then Easy Rider. Then I saw him in "The Last Detail" and "Carnal Knowledge", "Chinatown" and "One Flew Over The Cuckoos Nest"… so if there was one guy that I wish I could have worked as an actor, it would have been Nicholson
Hey, it may happen! You never know.
So what's next for Don Most? What new projects can we look forward to seeing next?
On the acting side, I recently did a play – "The Sunshine Boys" by Neil Simon. I did it with an actor called Robert Wuhl, and that was great.
Coming up there are a few people talking to me about independent films that they want me to be in. One of them is called "Cult Cartel", and I would get to play a bad guy, which I am looking forward to. That will film in July